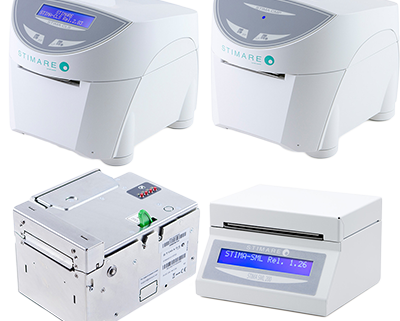 STIMA Ticket Printers
STIMA Thermal Ticket Printers are a series of industry leading, robust, high speed, thermal ticketing printers. They can be found in visitor attractions and professional sports stadiums all over the world. Some of their deployments include:Event Ticketing – Cinemas, museums, concerts and stadium, Waterparks & fun family attractions, Nightclubs & other small venues, Transport Ticketing – Air (Boarding passes & bag tags) rail, bus and ferry, Parking Stations – Pay station kiosks, attended stations and fines printer, Car Rental – Receipt and voucher issue.
STIMA CLS is ideal for heavy duty desktop ticketing applications that requires advanced ticket security measures. STIMA CMP ticket printer is an extremely versatile, heavy duty thermal printer. STIMA SML is one of the smallest desktop thermal ticket printer of its class in existence. Specially designed for small check-in desks where space is a major issue. STIMA OEM ticket printer is fast, up to 250mm/sec. It can handle paper thickness up to 350 g/m2. The cutter is designed to withstand 2 million cuts during it's lifetime.
Display 15 Products per page