SAVEO-ACC-TPFR8 – Multi-functional Smart Access Control Terminal
POA
SAVEO-ACC-TPFR8 – Multi-functional, all-in-one, smart access control terminal
Utilizing advanced, infrared thermal imaging technology, state-of-the-art sensors and LED arrays are used to support autonomous 3D face recognition and automatic body temperature measurement checks. A 2D Barcode scanner module allows for reading 1D and 2D barcodes from up to 2ft and contactless, HF RFID and NFC reader built-in, makes reading of HF cards and tags easy.
After face recognition and/or body temperature threshold has passed or failed, access can then be granted or denied or an visible / audible info message displayed.
SAVEO-ACC-TPFR8 can optionally upload captured pictures and meta event data to your secure access management platform and/or database via API or be set to push real-time data to web service or application location of your choice.
A complete developer SDK is included that allows for quick integration of each custom hardware component into your android application. Develop and configure based on the standard Android API and access a large range of additional possibilities for integration via Android's advanced developer functions.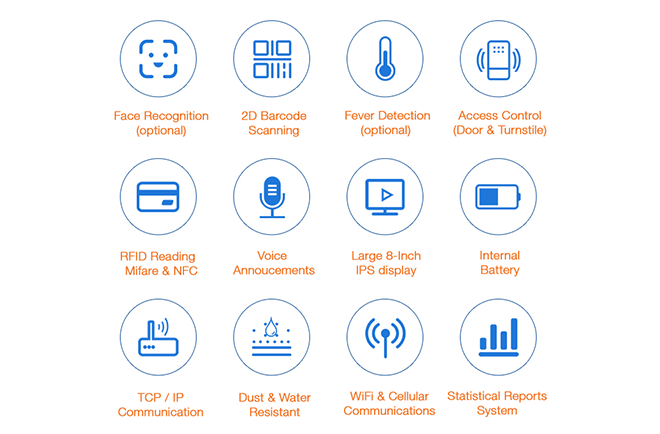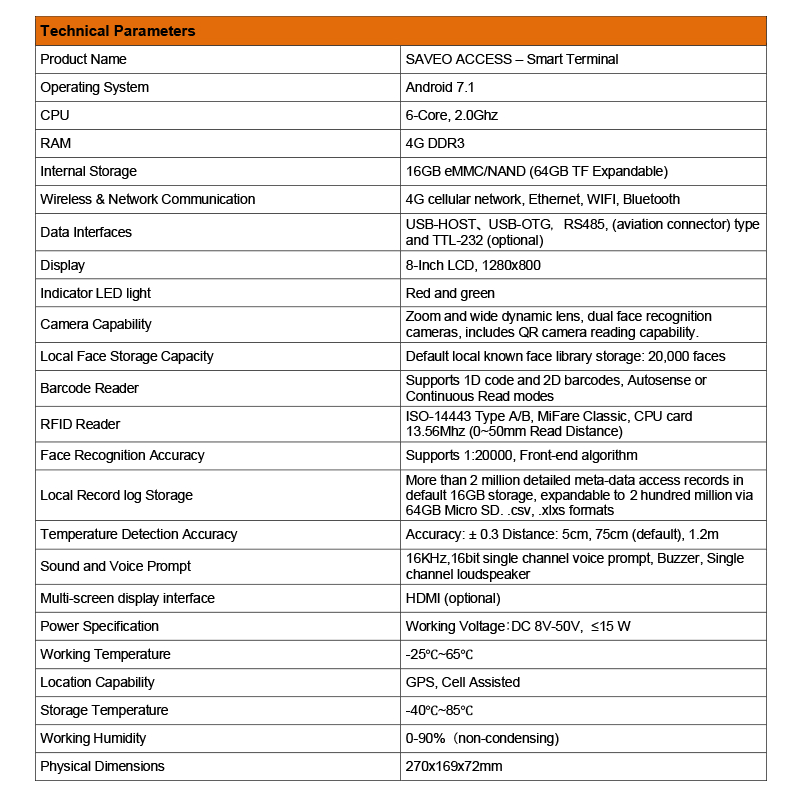 SAVEO-ACC-TPFR8 Brochure
Brochure
SAVEO-ACC-TPFR8 Spec Sheet
General Product Specifications
Contact Us
Email: [email protected]
Ireland: +353-1-685-4600
UK: +44-208-099-8071
US: +1-720-257-7070