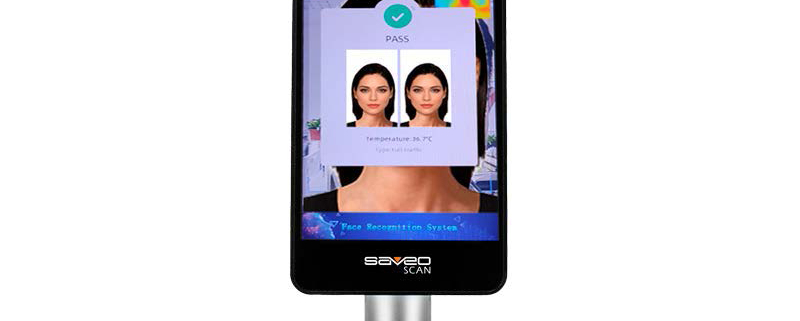 BIOMETRIC SOLUTIONS
Utilizing advanced infrared thermal imaging technology, imported sensors are used to support face recognition and automated body temperature measurement. SAVEO-TPFR1 can optionally upload captured pictures and meta event data to your access management platform via an API. After face recognition and/or temperature threshold has passed checks, the access control function can then be granted or denied.
Customizable, high temperature audible alerts and a warning window will pop up when high temperature is detected.
Deployment modes include:
Stand-alone, start working straight out-of-the-box. No installation required. Includes a free local network (or direct-to-pc) chrome browser-based application, designed for basic access & temperature monitoring, local storage face recognition (10k images, optional), local door/lock access and event logging capability (100k events in .csv / excel format).
Allow access to the private network or internet and collect image and event data, securely to your own in house or remote database. The device can also be set to push real-time data to web service or application location of your choice.
Use a multi-functional RESTful API to integrate fully integrate advanced features into your own web-based access control system or existing application(s).
A fully-fledged, out -of-the-box, Intelligent Access Control & monitoring System (supplied on a Micro Arm server module) options for enterprises with 3 to 300 devices running simultaneously. Enterprise-ready, server-based solution (externally managed) with support for an unlimited number of devices.
Operating modes include: identity recognition mode, only temperature measurement mode, full dual recognition & recognition mode.
Display 15 Products per page