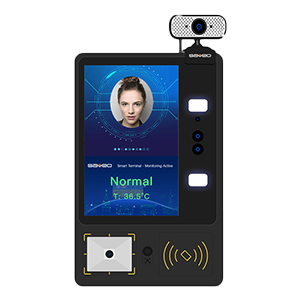 BIOMETRIC SOLUTIONS
Introducing SAVEO-ACC-TPFR8 series of all-in-one smart access control terminal, a new generation of multi-functional, smart access devices.Featuring a broad range of advanced contactless identification technologies and configurations which include; 2D Barcode Scanning, HF RFID, NFC and the latest 3D topographic camera technology for face recognition identification (optional).
Utilizing advanced infrared thermal imaging technology, an optional thermal sensor module enables automatic body temperature measurements and detection of fever.
An inbuilt Android-based Operating System allows for a wide range of setups and integration possibilities. Connectivity options for wired and wireless data, including dual-band WiFi, 4G LTE (multi-sim), GPS, Bluetooth, Ethernet, RS232 (Wiegand) and USB ports.
Each individual hardware module comes with integration instructions and code samples (SDK) that a developer can use to quickly integrate it and control in any application.
A preinstalled SaveoWedge keyboard wedge application allows for scanning 1D & 2D barcodes into any text input field (including Web Browser) with no app development required.
SAVEO-ACC-TPFR8's advanced face recognition algorithm (optional) is enabled by a powerful quad-core, cortex A17 processor, providing a high-accuracy and extremely low error rate, regardless of whether a face mask is worn. The algorithm can also pick up on whether a subject is wearing a mask and alert them when no mask is detected (if required).
SAVEO-TPFR8 can optionally upload captured pictures and meta event data to your access management platform via an API. After face recognition and/or temperature threshold has passed checks, the access control function can then be granted or denied.
Support for popular automatic door and turnstile access control protocols. HDMI output ports allow for easy direct staff monitoring with a mirrored external display.
Whichever contactless technology you select, Saveo ACCESS can adapt to meet the requirements of your unique digital initiative for staff & patron safety, efficiency and ease of access, in an ever-changing world.
Display 15 Products per page