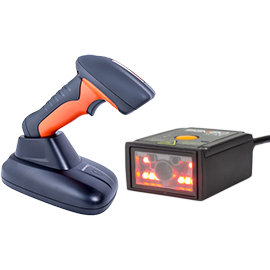 DESKTOP & KIOSK BARCODE SCANNERS
Saveo Embedded is the OEM version of Saveo Scan. It pairs up with Windows PC, Mac and Linux via HID, USB and Serial RS232. It's ultra compact with a durable aluminium housing and IP54 rating against dust and fluid.
Saveo Scan Rugged range of industrial-grade, IP67 rated 1D and 2D Barcode scanners are designed to meet the requirements of a wide variety of industrial scanning uses. All models feature an ultra-tough, drop-proof design that is sealed against liquid and dust. Premium performance 1D Zebra Laser, 2D Honeywell or 2D Saveo CMOS imager options each paired with a hardware decoder to make capturing & decoding barcodes fast and reliable. Multiple, model-specific connectivity options (including; Wired USB-HID, USB-VCOMM, 2.4Ghz Long-Range Wireless, or Bluetooth® BLE/SPP/HID) ensure that decoded barcode data arrives at your terminal, PC, Android® or iOS® device reliably and consistently. All Bluetooth® and 2.4Ghz Wireless models feature a high-capacity battery and charging dock (included) to offer a highly-dependable and convenient wire-free scanning solution for even the toughest of work environments. Wired USB models provide a solution for areas where wireless technologies are not suitable and/or where the scanner needs to be used and remain at a fixed workstation. All Saveo Scan Rugged models are covered by a 3-Year Warranty as standard.
The SAVEO-NT-2080 is a 1D & 2D barcode scanner designed for on-counter/desktop scanning. Motion activation provides fast hands-free scanning.
Display 100 Products per page