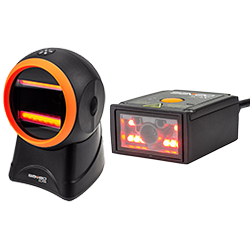 DESKTOP & KIOSK BARCODE SCANNERS
Saveo Embedded is the OEM version of Saveo Scan. It pairs up with Windows PC, Mac and Linux via HID, USB and Serial RS232. It's ultra compact with a durable aluminium housing and IP54 rating against dust and fluid.
The SAVEO-EMB-S2D is a next-generation, ultra-compact, fixed mount embedded OEM 2D scanner. Featuring durable IP65 rated industrial housing, a high-performance Saveo 2D Imager System and autosensing, the SAVEO-EMB-S2D is ideally suited to integrated kiosk, production line, ATM, POS and many other automatic scanning applications.
Introducing the next generation of omni directional, fixed standing barcode scanner. Featuring an ultra-high speed 2D CMOS scanning system, adjustable mounting bracket and auto-sensing, the SAVEO-OM-N12D is ideally suited to Commercial POS systems, Supermarkets, Transportation, Libraries, Postal Services, Banks, Telecoms, Industrial Manufacturing and many other automatic scanning applications.
Display 15 Products per page